https://z5h64q92x9.net/proxy_u/ru-en.en/https/colonelcassad.livejournal.com/3687583.html
September 18, 10:28
A FAN reports that tonight the posted by agencies crossed the river Euphrates and is now in the bridgehead occupied by the SAA with the support of VKS on the other side of the Euphrates.

The correspondent of the Federal news Agency (FAN) located in the province of Deir ez-Zor, where Southeast from the city was boosted by the Euphrates river. The forces of the Syrian Arab army (SAA) under the guidance of Russian advisers and the active support of videoconferencing crossed the Euphrates last night.
The operation was carried out in operational contact with VKS RF — Russian planes launched a series of devastating bombing and missile strikes on militant positions of ISIL*. Then, during the battle the militants were pushed back from positions on the shore, retreating in the area to the North. Currently, the forces are fixed on the occupied positions and moving inland to the North of Deir ez-Zor, occupied by the ISIS militants, – the correspondent of the FAN.
Previously, the FAN reported that the main objective of the SAA in Syria is now the crossing of the Euphrates and the redeployment of its forces on the left coast, where the territory for several years was controlled by "Islamic state"* (banned in Russia).
During this time, militants built a powerful network of fortifications and exploit a number of major oil deposits, ensuring the financial well-being of a terrorist organization.
Today in the province of Deir ez-Zor focused best-trained ISIS militants.
https://riafan.ru/972025-forsirovanie-evfrata-podrobnosti-operacii-specnaza-saa-v-sirii – zinc
"hunting ISIS" also confirm the crossing and the formation of the bridgehead https://twitter.com/ISIS_Hunters
Judging by what is reported and draw on the maps, the crossing of the river was to the East from recently cleared of militants of the Caliphate of the village Jafri.
Sources in Damascus reported yesterday that the issue of crossing the river has already been discussed by the Russian and American military to prevent possible clashes between coalitions.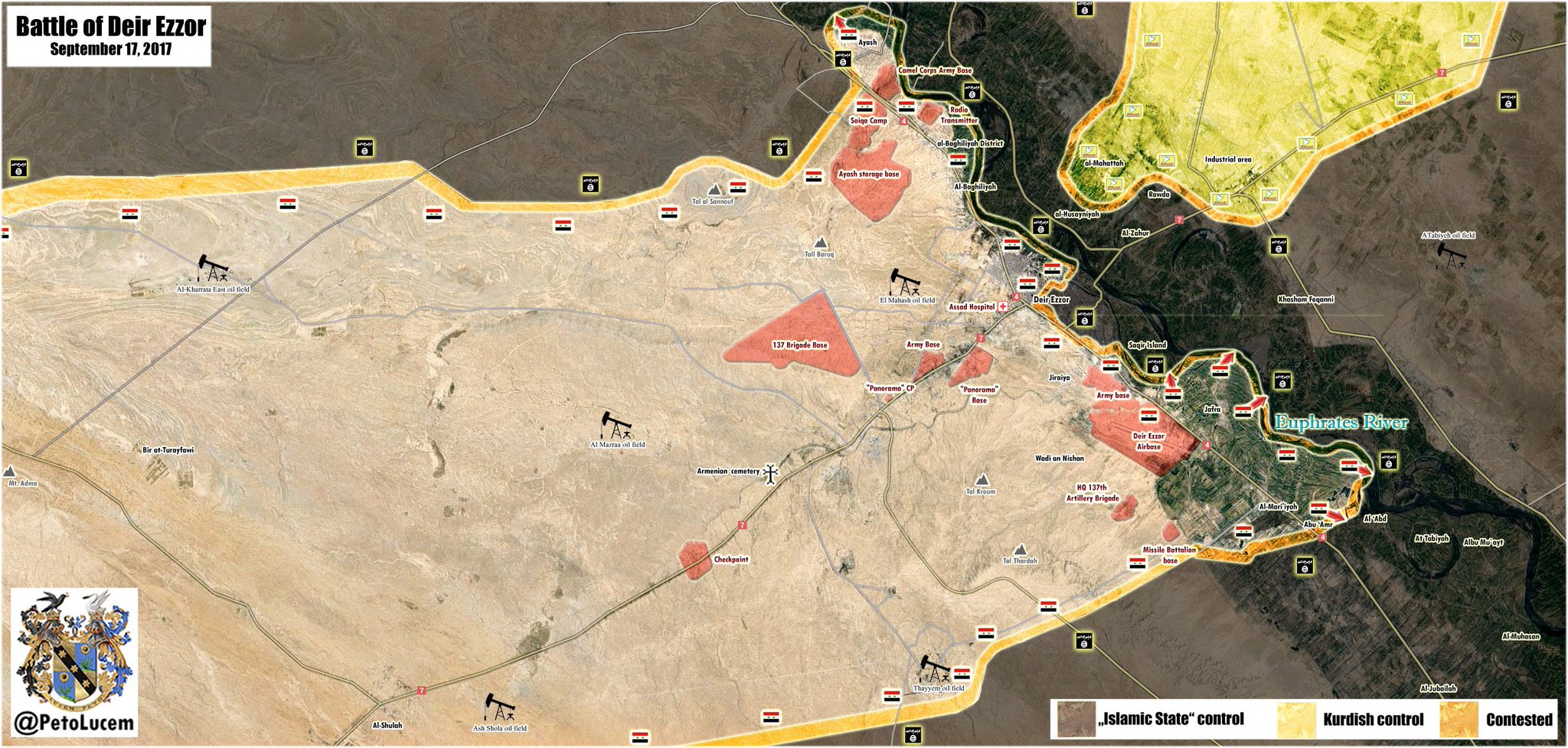 Of paramount importance? in the case of successful consolidation of the bridgehead and repel a possible counterattack ISIS, the intercept has a road running North-East from the bridgehead, in order to put there the physical unit for the SDF, and to create operational preconditions for the successful operations in Deir-ez-Zor, but also to ensure the promotion of the North Bank of the river towards the key oil-producing capacity of the province.