https://z5h64q92x9.net/proxy_u/ru-en.en/colonelcassad.livejournal.com/3626029.html
21 Aug, 17:06
An important success in Syria. SAA divisions developing the offensive to the North from the road Palmyra-Ties came in Huwaysis and as reported already captured important village of Juvies (according to other information, even conducted a sweep of the area), which was located in the South-Eastern part Acerbating of the boiler.
Juvies for a long time was under the control of the Caliphate and relying on him, the Caliphate would spend as raiding operations on the communications of Syrian forces during their winter offensive in Palmyra and Tiyas and to build a defense line, Julisis-Gazal after SAA could discourage Palmyra ago. It is in the area Huwaysis VKS at the time, lost a Mi-35.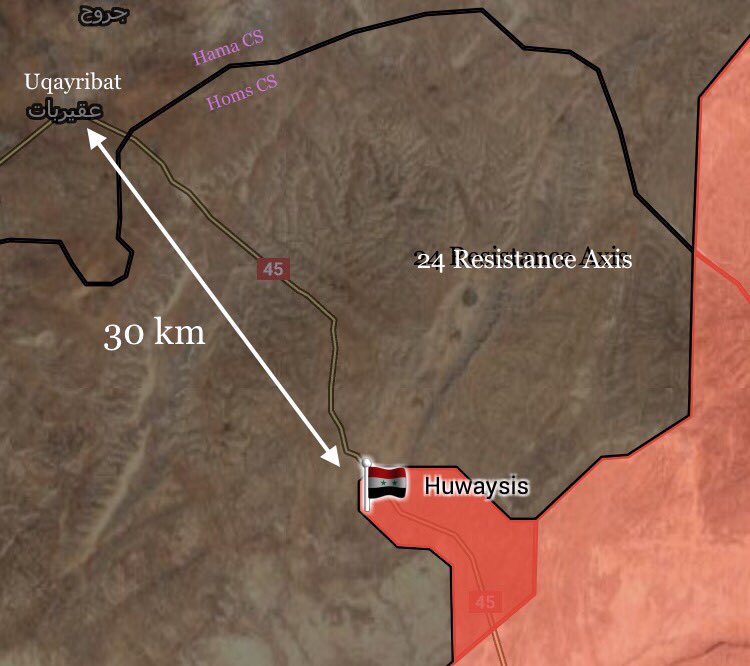 The occupation of the district Huwaysis allows you to develop the offensive in Akerbat from the South-East. Given the fact that the main forces of the militants are concentrated in the Western part of the boiler and the high momentum of the SAA, the militants will find it very difficult to organize a full defense from the East.
According to the General situation in Syria today released a formal briefing of the General staff of the armed forces.
It is also worth noting that today the Russian defense Ministry reported that videoconferencing has caught a convoy of militants in the province of Deir ez-Zor, and destroyed 20 units of various equipment and about 200 people.
Taking into account the reduction of the territory of the Caliphate, to track the movement of enemy troops will become easier, and therefore strikes at the remaining fighters to the reserves, which they use for counter attacks, have become increasingly effective.
Plus video.