25 Jun, 13:21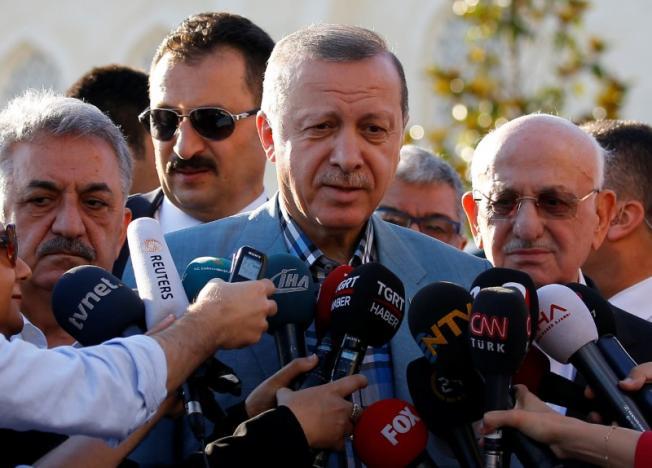 Erdogan commented on the requirements to withdraw Turkish troops from Qatar with all possible immediacy.

The requirement of several Arab countries to withdraw Turkish military base in Qatar is disrespectful to Ankara. This was stated to journalists by the President of Turkey, Recep Tayyip Erdogan, reports on Sunday, June 25, the Anadolu news Agency.
"Ankara does not intend to negotiate with third countries the issues of bilateral defence cooperation. Turkey is not an ordinary country," he said.
Erdogan stressed that his country supports Qatar's position on the demands put forward by Arab States to sever diplomatic relations with Doha. "Against Qatar the requirements of 13 points against the norms of international law. Attempted violation of the sovereignty and interference in the internal Affairs of other countries unacceptable from the point of view of intergovernmental relations. This approach is fundamentally flawed," said the President.
https://lenta.ru/news/2017/06/25/erdogan2/ zinc
On the one hand you can't argue the question of whether to place the Turkish troops in Qatar or not to post it, it's a personal matter of Qatar and Turkey. And requirements Qatar is clearly contrary to the notion of state sovereignty. Another issue is that Erdogan is trying to appeal to a moral international policy, which is especially funny to hear from him, as he for many years persistently and consistently interfered in the internal Affairs of neighboring Syria and Iraq and undermine their sovereignty. But Erdogan found the strength to regroup, and now he fell in love with international law (at least in words) and the sovereignty of other countries. Turkey of course will not withdraw troops, moreover, expect an increase in numbers. Apparently the support of Turkey has had a serious impact on the determination of the Qatari authorities to strictly reject the ultimatum.
PS. By the way, today he is at a public event at the mosque collapsed http://www.cnnturk.com/video/turkiye/cumhurbaskani-erdogan. The official version of the illness sugar in the blood.
PS2. The story of the bombing on the border with Israel has been an interesting development. Initially it was reported that Israel destroyed 2 Syrian tanks. A source in the Russian defense Ministry reported today https://ria.ru/world/20170625/1497248531.html, that Israel has destroyed there 2 tanks "al-Nusra".