https://z5h64q92x9.net/proxy_u/ru-en.en/colonelcassad.livejournal.com/3335784.html
3 APR, 17:02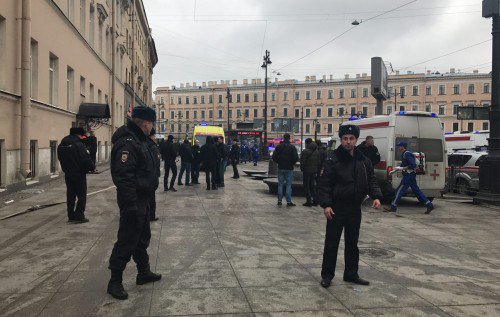 In Saint-Petersburg in the subway bombing occurred.

At the moment, according to official figures, 10 people were killed and more than 20 were injured (unofficially called the figure of 50 victims).

Responsibility for act of terrorism while nobody took, but would not be surprised if it worked one of the cells of the IG.

Press release anti-terrorist Committee.
"Today around 14:40 in the train on the stretch from the metro station "Technological Institute" and "Sennaya" in Saint-Petersburg there was an explosion of unknown explosive device. As a result there are dead and wounded. The orders of the head of the operational headquarters of the NJSC to the scene sent forces and means of divisions of FSB, the interior Ministry and the emergencies Ministry. Produced the evacuation, assistance to the victims.
The operational headquarters koordiniruyutsya activities of first responders, security agencies and law enforcement to prevent a possible second explosion, the organization of complex administrative and operational and operational-investigative activities. The scene examined by bomb experts of the FSB."
Photo & video 18+ http://frognews.bg/news_132373/Bez-dumi-za-ujasa-v-Sankt-Peterburg-18+/
peace to the ashes of the dead.
UPD: also found and defused an explosive device on Vosstaniya square. Apparently it was planned more large-scale attack with a large number of victims.

UPD: a criminal case under article "Terrorist act." As "Kommersant" reports that allegedly one more criminal case under article "Manufacture of explosives and explosive devices".

Photo defused bomb. Visible submunitions in the form of balls. In a crowded place such a device could kill dozens at a time (see periodic attacks in mosques and markets in Iraq).

Syria. 2014. A fragment of a suicide belt with shrapnel in the form of balls.
UPD: SK the Russian Federation has officially kvalifitsirovani the incident as a terrorist act.