https://z5h64q92x9.net/proxy_u/ru-en.en/colonelcassad.livejournal.com/3167222.html
5 Jan, 18:44
In the last week the hottest point of the Syrian war was the enclave of Wadi Barada, which for several years, holds a conglomerate of various "green" groups. The ceasefire agreement does not apply here and the SAA with the support of the Syrian militia groups "Hezbollah" trying to force the militants in the Wadi Barada to surrender on the model of other enclaves followed by a trip to Idlib. The other day, to the long list of surrendered areas, adding 3 more villages to the West of Damascus, of which in Idlib brought about 160 people.With Wadi Barada is more complicated – here fighters much more (estimated to 2.5-3 thousand, mainly "al-Nusra" and "Ahrar al-sham"), and the area of offensive operations is not particularly favorable. However, occupying a dominant position on the hill to the South and South-East of the enclave, the army and the militia are trying to move forward, to establish control over the key settlements located in the valley, in order to deprive the insurgents the ability to affect the water supply of Damascus, and to get rid of surviving in Idlib.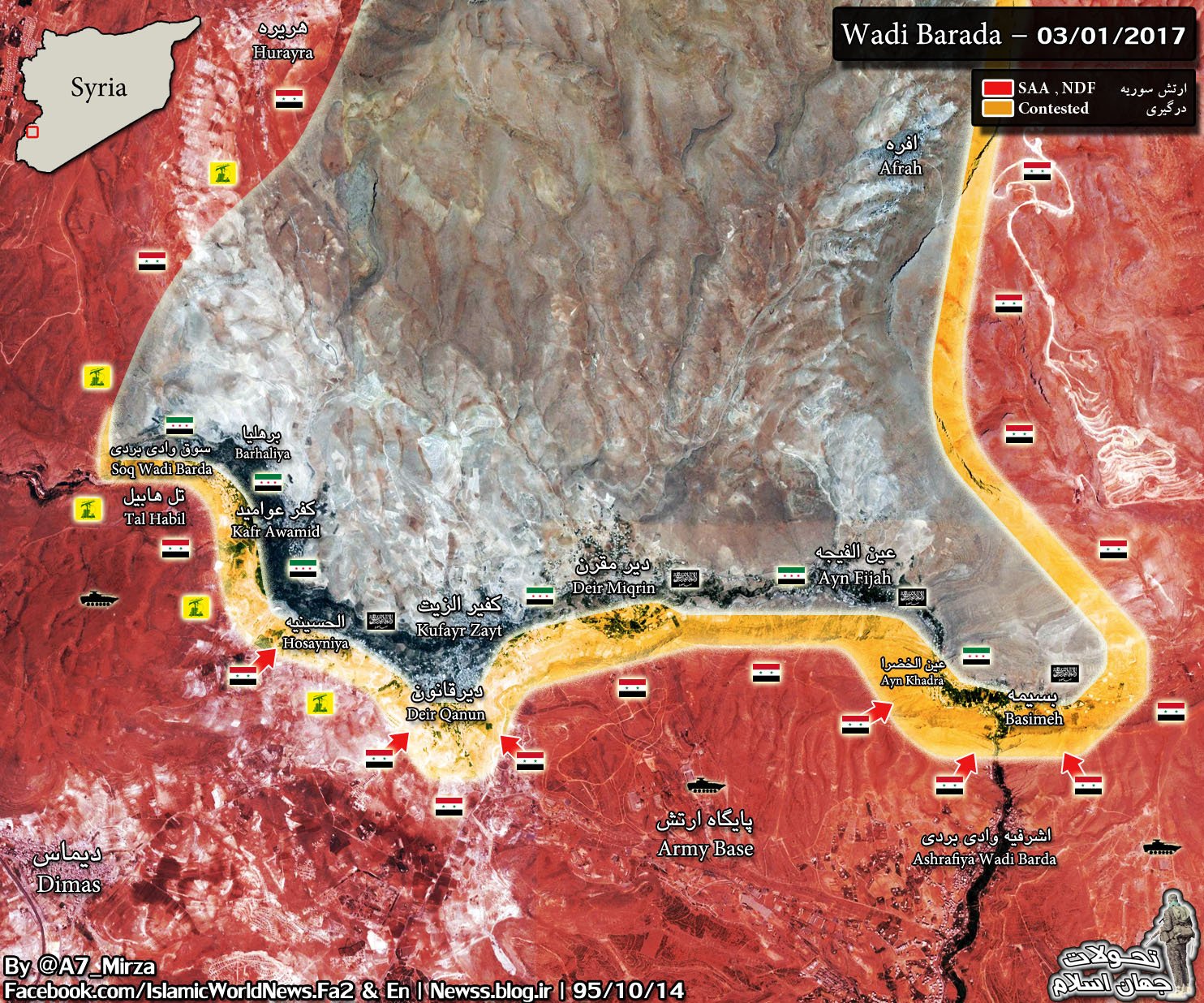 At the moment, after the surrender of the Western ghouta, Wadi Barada is the second largest enclave in the district of Damascus (in the territory of the enclave in addition to militants is a few tens of thousands of people) and according to the intentions of the Syrians, at the moment its elimination is a priority, although the attack on the enclave in Eastern ghouta also continues. But before Stripping of the Eastern ghouta is still far, so you first have to decide the fate of smaller enclaves like WADA and Barada Yarmouk.
The main objectives of the operation – to occupy a number of settlements in the valley (primarily Deir micron and Kufar Zayt) to actually dissect the group of the defenders and to obstruct communication through the valley, in order to then finish off the remaining pockets of resistance one by one, as had been done in Western Huta. Here, the scheme suggested will be similar. However, it has yet to break the resistance of insurgents. A few days of fighting, the Syrians lost 1 tank and about 30 men killed and wounded.Losses of militants is estimated at 45 to 55 dead, mostly during artillery shelling and air force strikes Syria and the Russian airforce (per week was applied for about 250 air strikes).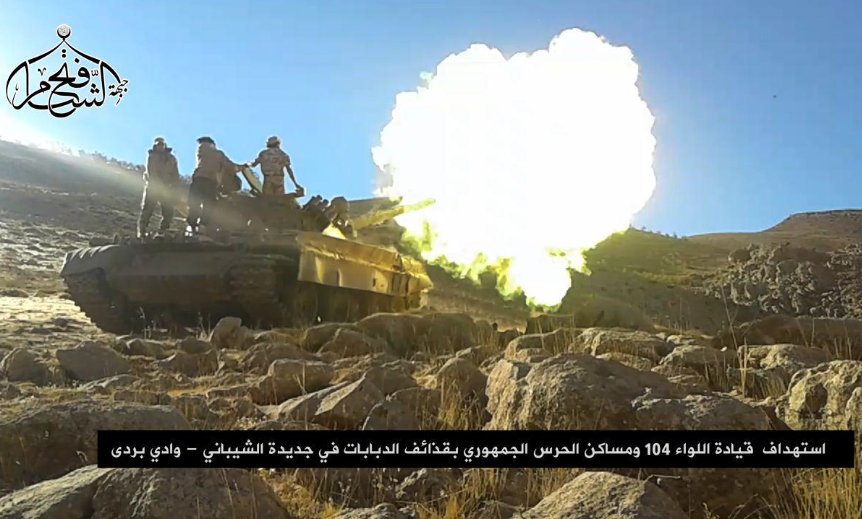 Tank "al-Nusra" in Wadi Barada. The end of fall 2016.
Of course, the propaganda of the militants and the Western media screaming about the "humanitarian crisis" as if it is not the militants have threatened the water supply of Damascus. As in the case of Aleppo, the emphasis in the propaganda done on the effects of the bombing and the representation of the local militants of "moderate opposition", when in fact the majority of militants in Wadi Barada are the militants "Al-Nusra", which the Western press actually protects.