https://theaviationist.com/2016/08/19/watch-russian-warships-in-the-mediterranean-sea-launch-cruise-missiles-against-targets-in-aleppo/
Watch Russian warships in the Mediterranean Sea launch cruise missiles against targets in Aleppo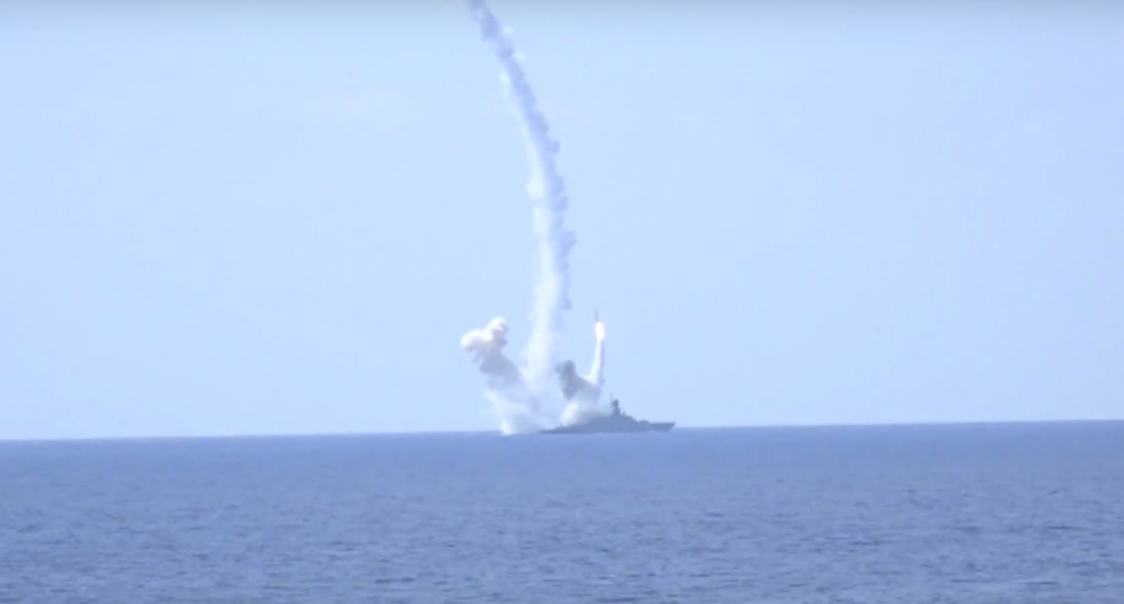 Some interesting footage shows the Russians are not only launching air strikes from Iran…
On Aug. 19, at around 10:55LT in the morning, the Zeliony Dol and Serpukhov small-sized missile ships of the Black Sea Fleet, sailing in the eastern Mediterranean Sea, performed 3 launches of Kalibr cruise missiles  against facilities of the Jabhat al-Nusra terrorist grouping in Syria.
According to the information released by the Russian MoD, the cruise missiles targeted a command center and a terrorist base near the Dar-Taaza inhabited area as well as a plant manufacturing mortar munitions and a large depot with armament, in the Aleppo province.
The data collected by the Russians "confirmed the elimination of the planned targets."
The Russian Defence Ministry published some footage of the launches, of the destruction of their targets and the subsequent Battle Damage Assessment (filmed from a UAV – Unmanned Aerial Vehicle) on their Youtube channel.